One of the largest thermoplastic custom compounders in the world.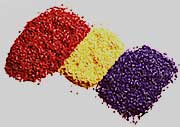 Glass Filled Polypropylene
McCann Plastics now offers glass filled polypropylene compounds ranging in glass loadings from 5% to 40% by weight.
We will also custom develop formulations to meet your specific requirements. McCann Plastics can provide both low cost solutions using regrind based resins or high tech solutions using virgin resins, coupling agents, impact modifiers and other specialty additives.
Please give us a call to discuss your applications.